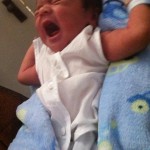 0-1 month:
My first visit after being discharged from hospital was to my house at Semman Thottam, Pappanaicken palayam. I received a very warm welcome including my name (Sai Krishna) drawn with rice flour in the entrance and decorated with flowers. All my neighbours visited me with gifts and spent few hours with Rangu Thatha & Guna Aatha. Rangu thatha decided to call me Sai Krishna as I was born on Gokulashtami Thursday.
These are some of the photos taken during my first four weeks.



























I spend most of the time sleeping and hearing cows call and listening to birds chirping, even though I don't know what cow and bird means in my grandparents (Vijayakumar & SathyaSundari ) house. Vijay thatha and Sathy paatti stayed back in Coimbatore for bringing me up during infancy, they found a quite village with lot of breeze and fresh air, the village is called Karuparayan palayam. They told me that I was very quiet, but I kept them busy as my Mom was still recovering from my birth.
My great grandma/grandpa travelled all the way from pattampalayam(where my Mom, Sri Mama and Sathy paatti were raised) to take care of me and my mom, . My mom and dad used to look after me during nights and Vijay thatha & Sathy paatti will take over the duty from 4 am and kollu paatti during the day.
I was called by various pet names like Mottee, Kutty Bujjii, Mayluu, Thangam, Thambi by Mom and others out of love and affection. I was bathed by Arukanni paatti and Palaniswamy thatha stayed for few weeks to help my grannies. Palaniswamy thatha was there when Vijay thatha was born in 1950's and are our family friends for past 3 generations.
Dad was with me for only 17 days and left to Edinburgh. I was constantly visited by relatives and friends all the time and seen so many faces that I couldn't remember any of them. Everyone told me that I more resemble my dad than mom. Mom used to take my pictures and videos every day to send it to Dad and Sri Mama, who lives in US. Sri Mama predicted my gender correctly by looking at my first scan and Lavan was one of the names he suggested.